Chillin' in Czech
Aside from day trips to The Caves, the intrepid explorers spent their time in Brno and in Prague. The main activities undertaken were walking and drinking. As the days went by, the walking activity level decreased, and the drinking activity level increased in almost perfect synchronised harmony like a finely tuned orchestra.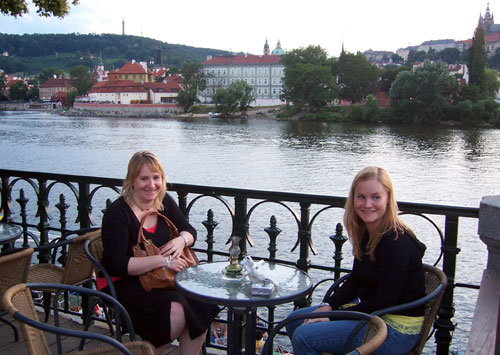 Drinks by the river in Prague.
The other favourite pastime was riding on the trains. This was lucky, because we had several trains to catch. The intrepid traveller motto became 'If the trains were like this in England, I'd get the train all the time'. The shockingly low price of the trains was a point for us all to marvel at (Brno - Prague, 3 hours, 150 miles, only £4)

Scoob drank so much, he was seeing double and Lisa had shrunk
Despite going home with several foot injuries, the intrepid explorer team had conquered the Czech Republic, and returned home triumphantly.
THE INTREPID EXPLORER TEAM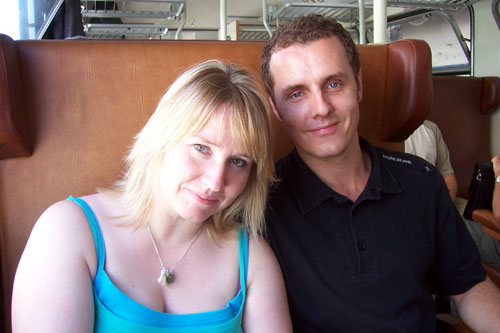 Nicola 'I'm just having a quick sleep' Lowry
Paul 'Where's my pint of Leffe?' Wright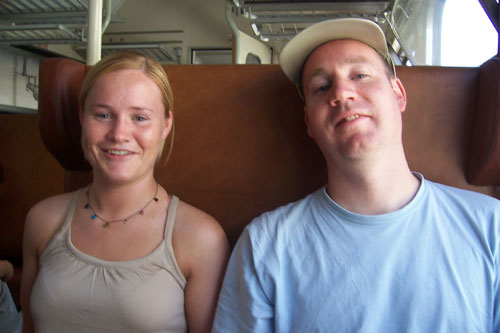 Lisa 'Pass the hairdryer' Beaton
Paul 'I'm sure it's not far to go now' Beaton
Posted by paul at July 15, 2005 08:21 AM