The Caves of Punkva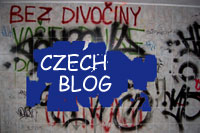 The Punkva Caves are well cool, in both senses of the word. They are cool, as in about 8 degrees centigrade, and cool to look at as well. They are located not far out of Brno, so a day trip was in order.
The intrepid explorers set off on the 10.30am train to Blansko, where we had the choice of a short bus journey, or a 5 mile walk to the caves. Surprisingly, the intrepid explorer team opted for the walk, as it was a beautiful, sunny day.
The first part of the walk was past polluted factories, and we were unsure if we were going in totally the right direction. I could sense small doubt creeping in to the explorer team about my navigational abilities.
Faith was soon restored when we spotted a signpost, and the scenery became nice and forest-like.
Arriving at the main cave centre, we were greeted by a bewildering choice of combination roadtrain/cable car/cave tickets. The saleswoman refused to stop speaking German to me, insistent in her belief that all foreigners must know German.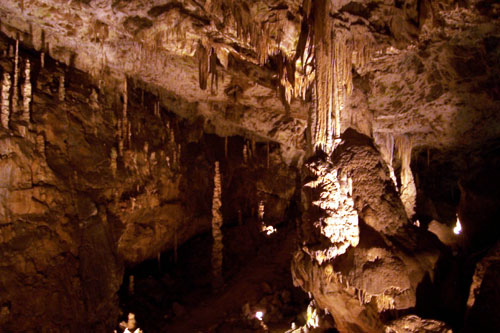 The caves of Punkva.
We opted for all the tickets we could buy, but not understanding the complexity of the system, we walked the part we were supposed to get the roadtrain on, and discovered that the cable car part was after the caves.
Waiting for our tour, we consumed a giant array of hot dogs and burgers, and noted that using the toilets required payment.
The guided tour in the cave was in Czech, making it a little difficult to understand - we loitered at the back and took pictures. In the centre of the caves it opens out into a giant hole back up to earth, which is very impressive. The last part of the tour was in a boat, floating down narrow cave passages. This is quite exciting, and we baggsied the front seats.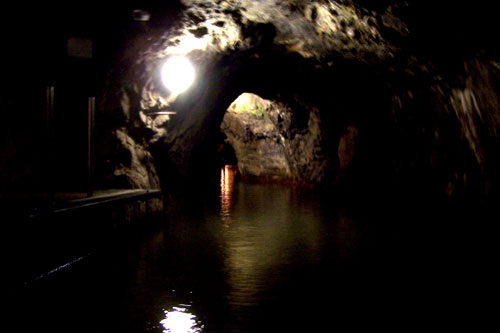 The intrepid explorers are in a boat.
The intrepid explorer team highly rated the trip to the Punkva Caves, and we returned to Brno full of joy.
Posted by paul at July 13, 2005 08:02 AM