Crap in Catford
I don't want to be too harsh, and I hope that Catford residents don't take it too personally, but on my recent visit to Catford, I found it quite crap to be honest.
It looks a bit rough, doesn't have too many shops, has horrible industry and railway lines running through it, and generally doesn't inspire much.
There is one very cool thing about Catford though, and that is the fact that it was named after wild cats that used to cross the river there. In tribute there is a giant cat outside the shopping centre. It's rather great, although the actual shopping centre was a bit rubbish.
Mind you, Peckham where I live, is quite rubbish for shops too, so perhaps I shouldn't complain too much. I ended up in Bromley later - that had a lot of shops - nearly as many as Croydon.
Not that I really like shopping - but I do like to look in the windows, and I like all that shiny glass you get in shopping centres.
Anyway, here's what you've all been waiting for - the super cool giant cat...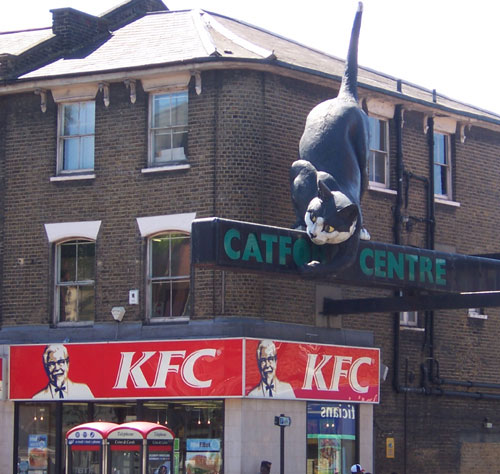 Meow! The Catford Cat is after some tasty KFC.

Posted by paul at June 21, 2005 08:27 PM