Chamonix Blog 2005
Following the dramatic success of the Chamonix Blog 2004, and my recent return to Chamonix on the traditional annual visit, I present to you the Chamonix Blog 2005!
Obviously, I haven't had time to do anything except the very most important item, which is the blog logo...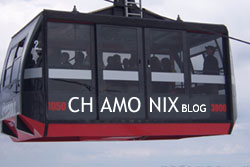 On the trip were Tom, Kevin and myself. Any ideas that resulted in us nearly falling off cliffs, drowning in snow, or forgetting to get bread were entirely the fault of Kevin, and not in any way anything to do with me. Cheques will not be honoured.
Posted by paul at May 24, 2005 10:40 PM