The Malta Blog Logo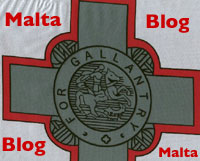 It has become the traditon when I go away somewhere, to produce a logo appropriate for blog entries for that destination. I am about to go to Malta for two weeks, so I bring to you the Malta Blog Logo!
This rather elegant logo brings to you a Maltese Cross from a real flag of Malta, combined with the words 'Malta Blog' in a delightful red kind of colour.
The cross is used in the U.S.A by fire brigades, as it is supposedly laden with symbolism, and represents bravery and valour and all that kind of thing. A modified version is used by fire fighters in the UK too.
Flagspot brings you the full history of the flag of Malta
I may need the protection of the cross in order to make blog entries while I am in Malta, as Miss Catheryn, who is accompanying me on this trip, will perhaps be after me for attempting blog activity whilst on holiday! We will see...
Posted by paul at December 27, 2004 10:02 AM