St. Christopher's Inn - Orient Espresso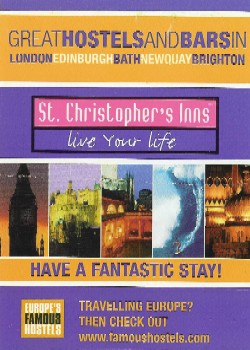 St. Christopher's Inn is one of those places that tries to be cool and hip. The leaflet boasted a 'chill-out room' and a 'party atmosphere'. Luckily I found some small print which said that if you 'preferred a quieter environment,' there was an annexe above the Orient Espresso coffee shop. That's for me I thought, so off I went to my eight bed dorm in the old fogey section of the hostel. The room had a bit more space, and even a table, which was quite shocking to see really. The shower was a definite improvement on the Dover Castle, with a good solid lockable door, and plenty of space to hang up your clothes. It was still a push button type that popped out far too quickly, but I had gotten quite good at the 'elbow technique'. By now I had reverted to 'hostel survival shower times' - meaning that if you shower at night, the water is really hot, and you never have to wait. Everyone wants a shower in the morning - you have to wait - the water goes cold very quickly - it really is terrible...
An eight bed dorm is normally 16 quid, but actually you can sometimes get it for £11.45 on the internet. This is infinitely preferable, and it means you don't have to spend as much time dealing with the monkeys on reception. It's quite common in youth hostels to staff the reception with backpackers, and give them a free bed instead of pay. This is all very well and good, except you leave yourself open to outstanding levels of incompetence. I had actually tried to check in a day earlier, but was told it was full. This I later learned was not the case at all, and in fact the monkey on reception was either a) too stupid or b) too lazy to actually book me in to the hostel. C'est La Vie as they say.
Posted by paul at September 22, 2004 01:23 PM