Climbing a Mountain
A couple of weeks ago my Mum and Dad went to Wales, and they went up a mountain. My sister Lisa decided that she too would like to go up a mountain, so on Saturday, off we went to the Lake District to go up Scafell Pike, which is (gasp!) the highest mountain in England at 978 metres above sea level.
It took us about four hours to get to the starting point, despite Lisa's speedy driving, as it's about 170 miles from Stafford, and it's quite far off the motorway.
Of course the weather was dire, we got soaked, and the whole mountain was covered in mist, but we figured that we might as well go up once we had driven all that way.
There are two ways up from where we started (Wasdale Head). Both ways are quite steep, but one way also has a section where it's so steep you need to use your hands to help you up. This was the way we went up, and it was quite hard going. The whole round trip took about five hours.
I went up Snowdon (1085 metres) last year and that was definitely easier. I also found Ben Nevis (1343 metres) easier going, but that was when I was a sprightly lad of 20 years old, so not really a fair comparison I guess.
I'm sure the scenery is lovely on Scafell Pike, but we didn't see any of it because the cloud was so thick. I was VERY glad we had a map, as the path disappeared near the top, and with the poor visibilty I was quite worried about walking off a cliff.
Despite the spectacularly poor weather, I took a couple of pictures of us at the top, as we were just about visible from about ten feet away. Lisa doesn't like the one of her, because she thinks she 'looks like a munchkin'.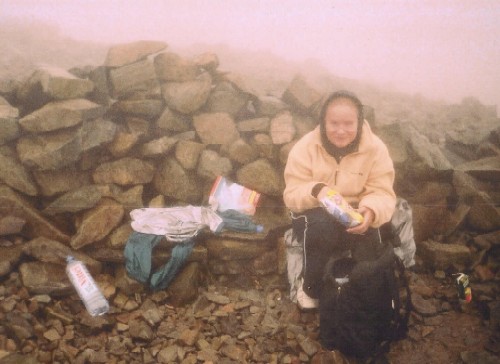 Lisa the munchkin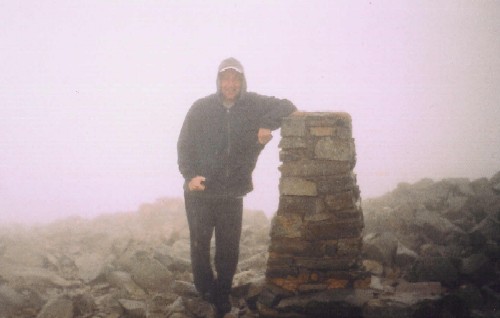 Me at the top
Guess I'll have to go back one day and see what the mountain actually looks like...
Posted by paul at September 9, 2004 12:16 AM