The Pixies at Brixton Academy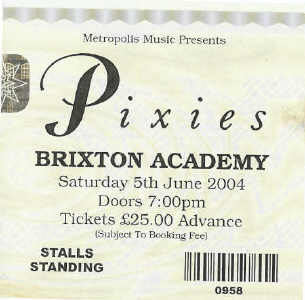 Just about a week ago now, I had the pleasure of seeing The Pixies play at the Brixton Academy. It was quite lucky I got to go, as they haven't played for about 10 years, and the tickets sold out within an hour of going on sale. I was fortunate enough to be able to use my underground music industry connections to get a ticket. That's a total lie, it was a friend of a friend of a friend, as they say.
Usually, bands reforming after a long time spells trouble, and I had seen the Pixies play in Birmingham 15 years previously. In this case though, they did a pretty good job. There was not a lot of banter and chat coming from the band, (in fact, about five words from Kim) but they played a long set, and they sounded good. I had forgotten just how really excellent their songs are.
The Brixton Academy was rammed, and I approved of the very sloping floor which made viewing quite easy, but disapproved of the lack of toilet facilities (only one men's toilets), which also happened to be on the opposite side of where I was standing. The Brixton Academy has had quite an interesting history, which is worth a read, but the most important event that ever happened there was the definitely the shooting of Billy Ocean. Sorry, I mean the shooting of Billy Ocean's video for 'When the going get's tough'. I must have been indulging in a bit of wishful thinking there...
History of the Brixton Academy
Posted by paul at June 13, 2004 12:56 AM