Getting Home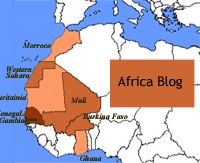 Now, I know I said I had made my last entry in the Africa Blog, and it is true that as I sit here typing, I am not in Africa. But as the journey home started in Africa, I am going to recklessly include the Africa Blog logo, and I hereby declare this entry part of the Africa Blog. Any objections must be submitted in writing, with full details of your very valid reasons.
So, the journey started at the airport, and it wasn't much of a journey to start with, as I had to queue up to actually get into the airport building. This involved a fun half hour being subjected to requests to buy CDs, tourist junk, and change money.
Once inside the airport, the queuing was fairly minimal due to the baggage check-in I had performed earlier in the day. The airport, although small, was eqipped with fairly modern furnishings. Well, OK, they were modern in 1975, which was when they built the airport. It had been opened by a colonel, according to the plaque on the wall, and had an uncanny resemblance to Digbeth Coach station in Birmingham. I doubt whether Birmingham City Council managed to get a colonel to open their bus station, which just goes to show the state of public transport in Britain today.
The other rather interesting sign on the wall said - 'Any person making inappropriate comments regarding firearms, explosives or hijacking will be subject to arrest and prosecution'. I resisted the great temptation to shout 'I've got a bomb! I've got a bomb!'. I hope they can't get me now for writing 'inappropriate comments'.
The exit formalities went smoothly enough, although I was a little distressed to discover tourist junk sellers on the other side of immigration. Surely that can't be right? In their infinite wisdom, a final security check was performed just before we went up the staircase to the plane. This resulted in a 45 minute wait on the runway. Maybe they only like queueing out of doors.
The next thing you know, I was in Paris at 6am. Paris is really nice. I forget that sometimes. I took the TGV to Calais. I felt like I was on the paradise train. What a lovely train. The following boat to Dover was less lovely, but still not bad. I met a retired American, who spent his retirement wandering around the world, and gambling in casinos. He was very interesting to talk to, and he insisted on buying me lunch, which was very nice of him.
In case you are wondering why I didn't take the Eurostar, the very good reason is that you 'can't just turn up'. Well, you can actually, if you bring a whole wodge of cash. Non-advance-booked Eurostar fares are over 200 euros.
Anyway, I got the National Express bus to London, which then hit a pheasant and broke the windscreen. If you have a joke in mind about keeping the pheasant for dinner, then you are not the first, believe me..
That really is the end of Africa Blog.
Posted by paul at February 24, 2004 03:23 PM