No Foreigners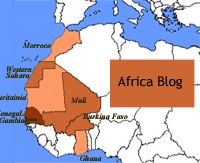 Yes, I'm still here in Dakhla. Last night's search for foreigners with cars, proved to be fruitless. A quick tour of all the hotels and restaurants revealed not ONE foreigner. The bar in the 4 star Hotel Sahara Regency was especially dire, and was dark and dingy and contained 4 Moroccans only.
I went to a Spanish restaurant to eat, and ordered 'Menu of the day', which was advertised as soup, beef stew, and dessert. The soup and stew were very nice indeed, but the dessert was pretty disappointing, as it was in fact a 'banana on a plate'. To top it all off, I had to listen to Bryan Adams while I was having breakfast this morning.
So, this afternoon I will go to the campsite, a very inconvenient 7km away. I assume all the French cars and caravans I've seen on the road, spend the night there. If that fails, then it's plan B, although I haven't made plan B yet...
Posted by paul at January 16, 2004 12:44 PM