Ukraine Blog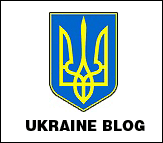 This is the official symbol of the Ukraine Blog, which I will be using (hopefully) next week, when I make a very short visit to Ukraine.
Apparently, nowadays you're not supposed to call it 'The Ukraine' anymore, just plain old 'Ukraine'. I think I like the sound of 'The Ukraine' better, but I will bow to convention.
The blog symbol is the coat of arms of Ukraine, which is in the same colours as the flag. They are quite striking colours for a flag. Nice one, Ukraine.
Posted by paul at July 22, 2005 05:07 PM