Alpybus suck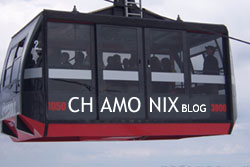 Alpybus have recently contacted me, apologised and made amends. They have convinced me that this experience was a one-off and not the norm, and so I no longer dis-recommend them!
The first task of the Chamonix trip was to get to Chamonix from Geneva airport. Sounds easy? We contacted alpybus, who subsequently ignored my reservation request for two weeks.
I followed up with a direct email asking about my reservation, and they told me that they don't bother running in the low season. They then recommended a public bus service that had stopped running a few weeks previously.
When I pointed this out, and asked them to double check their information, they decided to ignore me. A big thumbs down to alpybus - don't use them unless you have to.
Arriving, as we did at about 6pm, our choices were limited - the last train connection had gone and a taxi is apparently 250 euros or so. This leaves the airport transfer taxi guys. A bloke asked us for 50 euros per person, and we bargained down to 40 euros. He knew we didn't have much choice, and I reckon it's an overpriced racket the transport to Chamonix from Geneva business.
Right now I'm starting a campaign to lobby the Swiss and French governments to build a fast, direct hourly train service for 20 euros return. Well I would if I could be bothered.
Posted by paul at May 26, 2005 07:46 AM