Christmas in Church Eaton
Last year I spent Christmas in Tangier, and being one for making things a series whenever possible, I bring you part two - Christmas in Church Eaton.
I ate a lot of chocolates and drank wine. Everyone watched Eastenders on the telly, and then it snowed. Enough to make a snowman, which made Kristie very happy...
My sister, Paul, and Kristie had a taxi booked to take them home, but being a great big lazy woos, the taxi driver told them he couldn't come 'because of the snow.' It was a whole inch after all- no way you get a taxi out in that...
Still, snow makes everything look nice, and this is what it looked like this morning...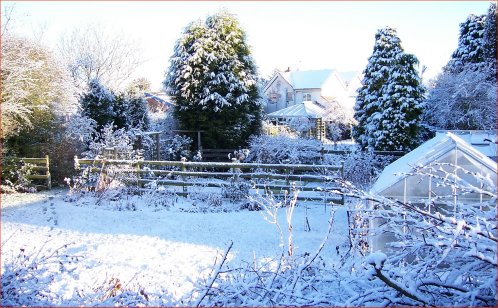 A lovely white Boxing Day, just like the ones we used to know... (so they say)
Posted by paul at December 26, 2004 05:19 PM