The Grove, Peckham and the Palace
Just a couple of Sundays ago, when it was very cold, but pretty sunny, I set off with Tom in a northern direction by bicycle. We attempted to follow the clearly marked cycle path number seven, but of course it just completely vanished somewhere near Alexandra Palace.
The end result of all this, was our final destination became the world famous landmark tube station at Arnos Grove. You might think I am taking the piss, but I assure you that this is not the case, and those of you who are highly educated will no doubt have heard of Charles Holden, a very famous architect responsible for this station.
There is a lovely picture of the Arnos Grove station in this rather nice showcase of the buildings of Charles Holden. I will mention the nearby park, very cleverly named 'Arnos Park', so you can find it easily. It was very nice, and had lots of trees. If you are out and about in the 'Grove' area, I suggest you check it out - man.
Since I moved to Camberwell, I have had the pleasure of visiting nearby Peckham. Again, you may think I am taking the piss, but actually Peckham rocks. Yes, it really does.
First of all, there is the fantastic value cinema, the Peckham Multiplex. Tickets are only £2.99 for any showing.
Second of all, Peckham has a large variety of strange shops - including possibly the city's largest shop full of cheap junk of the kind usually found in those shops where everything costs £1.
Third of all, it is obvious that Peckham is just plain inspiring, as is proved by the visions of angels seen by William Blake on Peckham Rye (not a kind of bread, but a green space) - that bloke who wrote Jerusalem.
And so we come to Crystal Palace, where I cycled last night to go to the pub with James. He lives there and thinks that zone 4 counts as London. Maybe it does technically, but believe me, I cycled there from Camberwell, and got lost in the vast swathes of forests, parks and private roads that feel distinctly like suburbs in many small towns across the UK. Still, it was nice to get some fresh air, out there in the countryside.
The main thing I noticed, was the fact that it was stupidly high up in the air. I sweated and toiled up endless hills, and it took roughly twice as long to get there, as it did to get back. This inspired me to try and find the elevation of the pub I was in last night - I believe it to be about 95 metres.
In my quest to find this data, I came across a REALLY GREAT page, which although designed for radio enthusiasts, can be used to make a graph of terrain between two grid references. It's wicked. It works in a straight line, so the distance on the graph doesn't exactly match the walking/cycling distance and so on - but it gives a rough idea. In fact I got very carried away with making lots of graphs...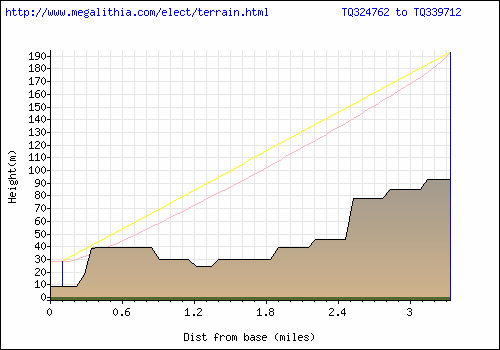 My journey to Crystal Palace
A further amount of research revealed Botley Hill in Kent to be the highest point inside the M25 - at 250 metres above sea level. A graph was obviously needed to check the potential journey from Camberwell...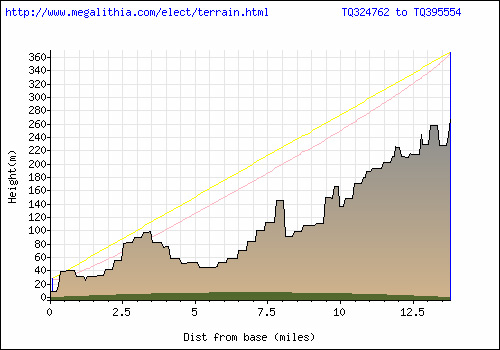 Camberwell to Botley Hill, Kent
Finally, I thought I'd better see what it looks like from Fort William to the summit of Ben Nevis...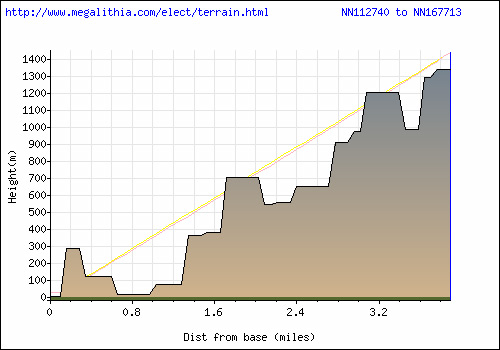 Going up Ben Nevis
I know that after seeing all these graphs, you are very excited, and want to play - so here is the link to the fabulous graph making site...
http://www.megalithia.com/elect/terrain.html
Enjoy!

Posted by paul at November 24, 2004 07:50 PM