The Dover Castle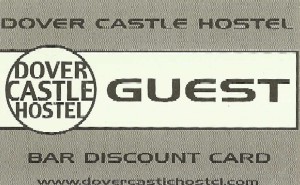 Yesterday, I stayed in what is nowadays sometimes called a 'Backpacker Inn', but used to be called a 'Youth Hostel'. I thought it would feel weird to be staying in one of these places in London, and actually going out to work every day, but it felt kind of normal actually. I lived for four months in one when I was working in Hong Kong, and it felt kind of similar. The hostels with the most crowded rooms are to be found in Hong Kong, with four bunk beds in a corridor being considered normal. London's hostel rooms are pretty crowded too, and I spent the night at the Dover Castle in Borough, in a 14 bed dormitory.
The Dover Castle is quite a cheap place, with beds starting from ten quid, but it's a bit run down. The room was reasonable, but the shower facilities were totally dire. There were two showers in a tiny room with battered shower curtains, and totally nowhere to hang your clothes. There was no lock on the main door, and so you constantly ran the risk of encountering members of the opposite sex with no clothes on. You might say that it is quite a good thing for an old man like me to be bumping into naked twenty year old Swedish girls, but I'm quite shy really, and would prefer the lock on the door!
The shower was one of those where you push in a button, and it slowly pops out, so you have to keep pushing the button in to get water. This of course means you have no control over the temperature, and you have to develop a technique for keeping your elbow on the button while you wash your hair. It was also cold.
Posted by paul at September 19, 2004 01:22 PM