La Potiniere Restaurant - Chamonix - France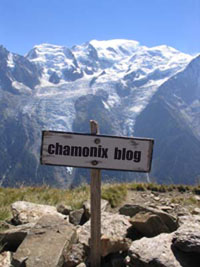 We were looking for a set menu at a reasonable price, so we had a stroll around, and La Potiniere had the greatest number of choices. It was quite a big, touristy place, but we decided to give it a go anyway.
The stage was set by the manner of the over-friendly waiter, who's whole demeanour said 'I am cool, and you are only a tourist'. He spoke sometimes in French and sometimes in English, and was just the wrong side of abrupt. We ordered beers and he brought us ones that were larger than we asked for. He was apologetic, but didn't really sound sincere to me.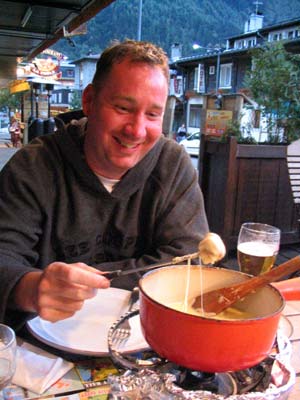 Enjoying some good, delicious food - you can't get this at La Potiniere!
(Photo: Tom Moreton)
The starter was not too bad - a salad with warm goats cheese, but I guess it's hard to mess that one up too much. It's much easier to mess up a steak, and that's what they did. The meat was of pretty poor quality. I had a medium, and Tom a well done, but they were both stringy and chewy. They did a good job of the pepper sauce, but sauce is not enough when the meat has no flavour.
Considering the kind of experience you can have in a restaurant in France, this was way below the mark, and the food we were served at the small restaurant in the campsite we stayed in, was of a higher quality.
If you're looking for a restaurant in Chamonix, I suggest you give La Potiniere a miss.
2 out of 5
Posted by paul at September 17, 2004 08:06 PM