Chamonix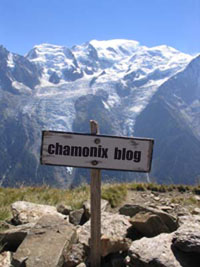 Today we arrived in Chamonix after 18 hours or so of bus travel. The overnight bus from London to Lyon was not very full, so it was possible to obtain the much sought after double-seat, and get at least a bit of sleep during the night. The London - Chamonix journey is to be had for the bargain price of 50 quid return providing you book thirty days in advance. Pat, a Western Australian on the bus, had not done this, and ended up paying over 100 quid for his ticket. It's very difficult these days to make any kind of journey by just turning up and getting a ticket, unless you want to pay double the going rate.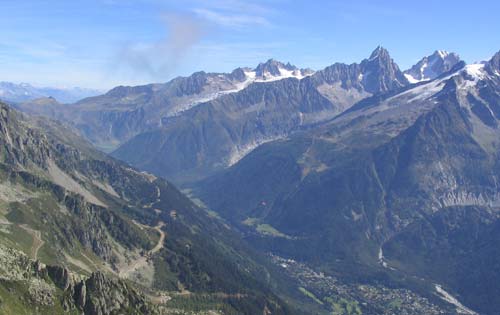 Beautiful Mountains (Photo: Tom Moreton)
We went under the channel using the Eurotunnel. I was a Eurotunnel virgin, so it was reasonably exciting. There seemed to be not a great deal of traffic using the service, and there were vast swathes of space for cars left totally unused. You basically drive on to a great big train, park your car/bus, turn of the engine, and wait. You are allowed out of your vehicle to wander around along the sides of the cars, but there is nothing there, and a sign forbids you to move between the vehicles or take photos. There is a toilet at each end of the train, but as the train is incredibly long, I would suggest choosing the one at the nearest end to your car. I'm not sure how you figure this out really.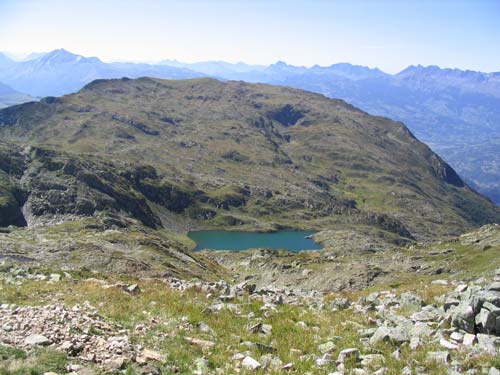 Brevent Lake (Photo: Tom Moreton)
Having arrived in Chamonix, we went to a campsite about a mile out of town. They seem to know how to do campsites properly in France. You get good facilities such as hot showers, toilet rolls, and a restaurant. In England you get a sloping field and a shed. I haven't really been to that many campsites in England, so if anyone wants to correct me on this point - feel free!
Pat, the man from W.A. had a very snazzy tent, and lots of equipment. He was a climber, and he cooked his own dinner on a camping stove every night. He was surprised that we hadn't brought a torch with us, but we explained that we could actually see in the dark, so didn't need one. (O.K. we forgot...)
Posted by paul at September 11, 2004 07:43 PM