Mark and Sam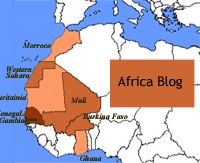 Mark and Sam were the first people I ran into in Dakar. They were eating in the hotel restaurant, and hearing people speaking English, I got excited and went over.
Mark is in his 40's and used to read the news on Hong Kong TV. Bizzarely enough he used to be a regular on Sunday nights at the Hong Kong bar I worked in. So, it's extremely likely I had already met him a few times 8 years ago. He was on a quick trip to Mali, and was going the next day to get his visa. This was very good timing, as so was I. He had already hired a taxi for the whole of the next day, and he very kindly let me share it to go up to the embassy and back, and around the peninsula sight-seeing. He also gave me a book he had finished reading, which I very much appreciated as I hadn't seen any English books since Morocco, and I was more than a little tired of the International Herald Tribune, which is a weedy thin newspaper in an unpleasant font. (hope I can't get sued for that). So it's a big thank you to Mark. I am not any less grateful just because it was a Geoffrey Archer book. I've never read one of those before, and although I found the story reasonably good, the descriptive narrative I thought sometimes he was taking the piss. I went back to the front page to check it didn't start with - 'It was a dark and stormy night...'
Sam, on the other hand was about 20, and he was having a hard time of it in Dakar. His gentle, trusting nature was being taken advantage of by the touts of Dakar, and he seemed to be wandering around in a daze.
He sat with me at breakfast before I left, and was drinking green tea. He explained he was only eating and drinking pure natural things. I replied that that was commendable, but certainly didn't suit me, as I liked unnatural things very much (don't read that the wrong way).
'Have you heard of drinking your own piss?', he asked.
'Yes, I have', I said.
'Well, that's what I'm doing', he replied. He then added that it tasted just 'like water', if you only eat pure things, which was perhaps too much information.
He went off down the coast to chill out for a couple of weeks.
I wish him the best of luck!
Posted by paul at February 5, 2004 07:12 PM