St. Louis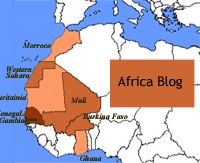 St. Louis , just over the border from Mauritania, is a pretty nice place all in all. The town is on a small island connected to the mainland by a nice old bridge, which legend has it, was designed by the same guy that did the Eiffel Tower.
Consequently there are river/sea views all round, and the place is very peaceful (apart from the tourist touts!). The whole place still looks like it did when the French built it.
I spent a pleasant few days in sunny St. Louis, mostly just eating and drinking. I noticed that it doesn't matter what you order, it always comes with the same sauce. It's pretty tasty and I think it's called 'Yassa'. I also noticed that the more expensive the hotel you stay in is, the more vehement the sign is that insists you don't do laundry in the rooms. Not only was doing laundry 'strictly forbidden', but even 'hanging wet clothes on any item of furniture' was also a big no-no. I've developed a guerilla laundry tactic where I wash my socks just before I go to sleep, then hang them to dry. If they are not dry in the morning, I take them off the back of the chair and lay them on my backpack under a plastic bag. The next tactical manouever is to go out for breakfast. When I come back, if the cleaner has already cleaned the room and made the bed, then I know it's safe to hang them back up. It's an almost foolproof plan, they'll never catch me, ha ha ha!
Anyway, moving swiftly on, I tried to hire a bike to go to a nature reserve, but met with dismal failure and had to take a taxi. The man at the desk took some money and gave me a 'permit' to go in the park. Then he said a guide was 'obligatory'. It wasn't too expensive, so I took Mr. Obligatory, and he led me round the park and found some gazelle, an oryx, and a giant tortoise. The tortoise was in a cage, so actually not too hard to find, but he did a good job with the others. Then, either due to laziness or kindness, as I had an expressed a desire to go guide-free and wander around, he pointed the way back and left me to my own devices. I had a very nice few hours wandering through the bush, and it looked just like Africa does on the telly, a kind of wild savannah type thing. It was by a river, and I saw lots of giant birds, and also a lion. No, I wasn't serious about the lion, just seeing if you're paying attention.
I rounded off my 3 days in St. Louis with a meal in the posh Vietnamese restaurant overlooking the river. Very nice indeed, and it even had different sauce!
Posted by paul at February 4, 2004 08:31 PM