Chinguetti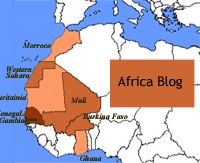 Chinguetti is an ancient caravan town. By which I mean camel caravans going to Timbuktu, not German tourist caravans. Only 3 years ago, there were no telephones, and only generator powered electricity. The old town is pretty much crumbling ruins, and the new town is what I would call 'modern ruins'. There is not an awful lot in Chinguetti, bar a tiny market, a few grocery stores, and a bunch of basic places to stay. The streets have no names, and are just tracks in the sand. In recent years, since flights to the nearby (2 hours) town of Atar started from Paris, a small package industry has developed, bringing with it the usual mass of touts selling tourist crap. The prices in Chinguetti seem to be uniformly higher than in the rest of Mauritania. I suspect all the villagers have agreed on fixed higher prices for tourists, but maybe I just have a suspicious mind.
Chinguetti is surrounded by sand dunes, and this is one hell of a good reason to visit, as after just 20 minutes walking, I was in amongst the dunes. It is SO BEAUTIFUL in the sand dunes, I was actually saying 'Wow!' as I arrived on top of some of the dunes. They stretch as far as the eye can see, and are a vast range of heights and shapes. The colour of the sky is some kind of blue that is just dazzling, and the sand changes colour according to where the sun is.
I wandered around the dunes with the usual hundreds of flies that seem to appear from nowhere, and follow you everywhere. As I came down a dune, I looked up, and on top of the next dune were a whole bunch (probably not the correct term) of camels. I said to myself, 'Wow! camels!'. I was very excited.
You may not think camels are exciting, but I found that in this case they were.
I spend the whole afternoon strolling around the sand dunes, keeping an eye on the sun to combat my fear of not remembering which direction town was. Luckily, every so often there was a very high dune, and a trip to the top, would usually reveal which direction the town was. (often, not quite where I though it was!).
It really is a strikingly beautiful landscape, and it just about made up for all the suffering I went through to get there.
Posted by paul at January 26, 2004 08:56 PM