Dave and Bracken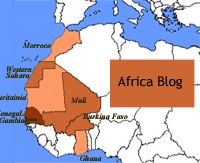 It's been a while (as Staind might say), since I last blogged. This is due to the very valid reason indeed of being in the MIDDLE OF THE DESERT.
I am in fact, still in the middle of the desert, but in this case, a city of a million people happened to have been built here as well.
Before I go any further, I'd like to mention a 'Thank You' to Dave, a retired English guy, who got me to Mauritania, and was good company for a couple of days. Dave has recently retired, and has been living in his van, and travelling around Europe for the last couple of years. He happily gave me a lift, even though I'm sure I look like a suspicious character, and he wouldn't take any petrol money.
Also, I'd like to thank Bracken the dog, which is perhaps the first time I've ever thanked a dog, because they don't normally do very much for me. In this case, Bracken had to give up his space on the front seat of Dave's van, while I had a lift. This, he did uncomplainingly, and although I hardly ever like dogs, I liked Bracken. Bracken also barked at strangers who came near the van, and I enjoyed watching touts running in fear of their lives.
I wish man and dog, best of luck on their future travels!
Posted by paul at January 25, 2004 03:59 PM