Still Here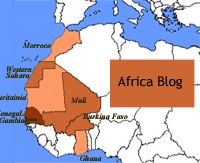 Once again, I find myself here in Dakhla for another day. A trip up to the campsite yesterday afternoon proved successful in locating a lift to Mauritania, but unfortunately not until Monday.
At first glance the campsite didn't look too promising, with crowds of elderly Germans in giant camper vans - 'As you can see, Vee are full!'.
However, I was directed to an English guy in a van called Dave. (the guy was called Dave, not the van). He said he was going down on Monday, and I could have a lift. He was a very personable retired fellow, with an interest in wildlife.
Deciding that there were worse things than hanging out in Dakhla for a couple more days, I said that would be fine.
I set off on the long dusty 7km back to town, past the friendly soldiers who waved at me in both directions, and happened upon 2 French people.
They had been upto the campsite without much luck, and were on the way back to town. They very kindly conversed with me in English. They had just come from Paris on the bus, ALL IN ONE GO, those crazy people. They had changed buses twice, but essentially had just spent 4 days and 4 nights on the bus. No wonder they looked tired.
We hung out and had a coffee. One of them had family in Congo, and was heading down there, and was going to spend a year in Africa, and the other was heading to meet a friend in Senegal.
This morning, when I had breakfast, I had to listen to Celine Dion (No, I'm not making this up).
Posted by paul at January 17, 2004 01:17 PM