Cold and Rainy Mountains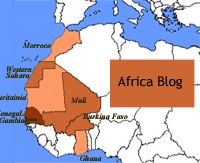 December in the Rif mountains of Morocco, and the weather is pretty cold and wet. Beautiful scenery, when it's not covered in cloud, which has been only 3 hours or so in the last two days.
Still, finally this afternoon it stopped raining and we strolled up the mountain behind the town for some lovely views.
Have spent the last couple of days drinking tea and coffee, and playing chess with Robin (U.S.A.) and John (U.K.), who I met on the bus up here.
Here is Chefchaouen, which is a pleasant town sprawled on a hill at the edge of the Rif mountains. The houses are painted blue and white, and the town has a fair abundance of Spanish tourists and hippies, sampling the delights of the local kif (marijuana).
Now it's time to leave the rain, and head further south..
Posted by paul at December 28, 2003 07:26 PM