Christmas in Tangier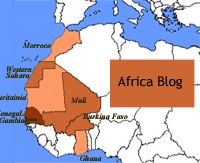 Have just spent the so called festive period in Tangier, which despite Tangier's reputation, turned out to be quite pleasant, although I guess that could depend on luck, as I met someone who had a knife pulled on them the day they arrived.
I went for a walk around the bay of Tangier itself, and a nice stroll along a rocky beach, and up into the forest.
There's a nice cape about 10km out, with some great views, though a lot of trash and not very nice restaurants. It seems the road out here is destined for development, as there was a lot of construction going on, and a big casino had already been built about halfway along.
This was near a little complex containing Pizzeria Oslo, Pizzeria Stockholm, and the Schengen Cafe. A somewhat European theme!
I noticed that the casino was covered by armed police, and photography was prohibited in the area. I guess that is indicitive of the current climate of terrorism we live in.
Tangier appears to have been neglected in the past, but a phase of redevelopment seems to have begun, starting with a brand new, very grand train station.
Just before I left Tangier, a Japanese tourist was sitting across from me in a cafe, and she took a photo of the baguette she ordered, just before she ate it. This is something I have only ever seen Japanese people do, so I assume that what they eat in Japan, must be vastly different to the rest of the world.
Posted by paul at December 27, 2003 02:04 PM